Splendid Fruit by Jo Caldwell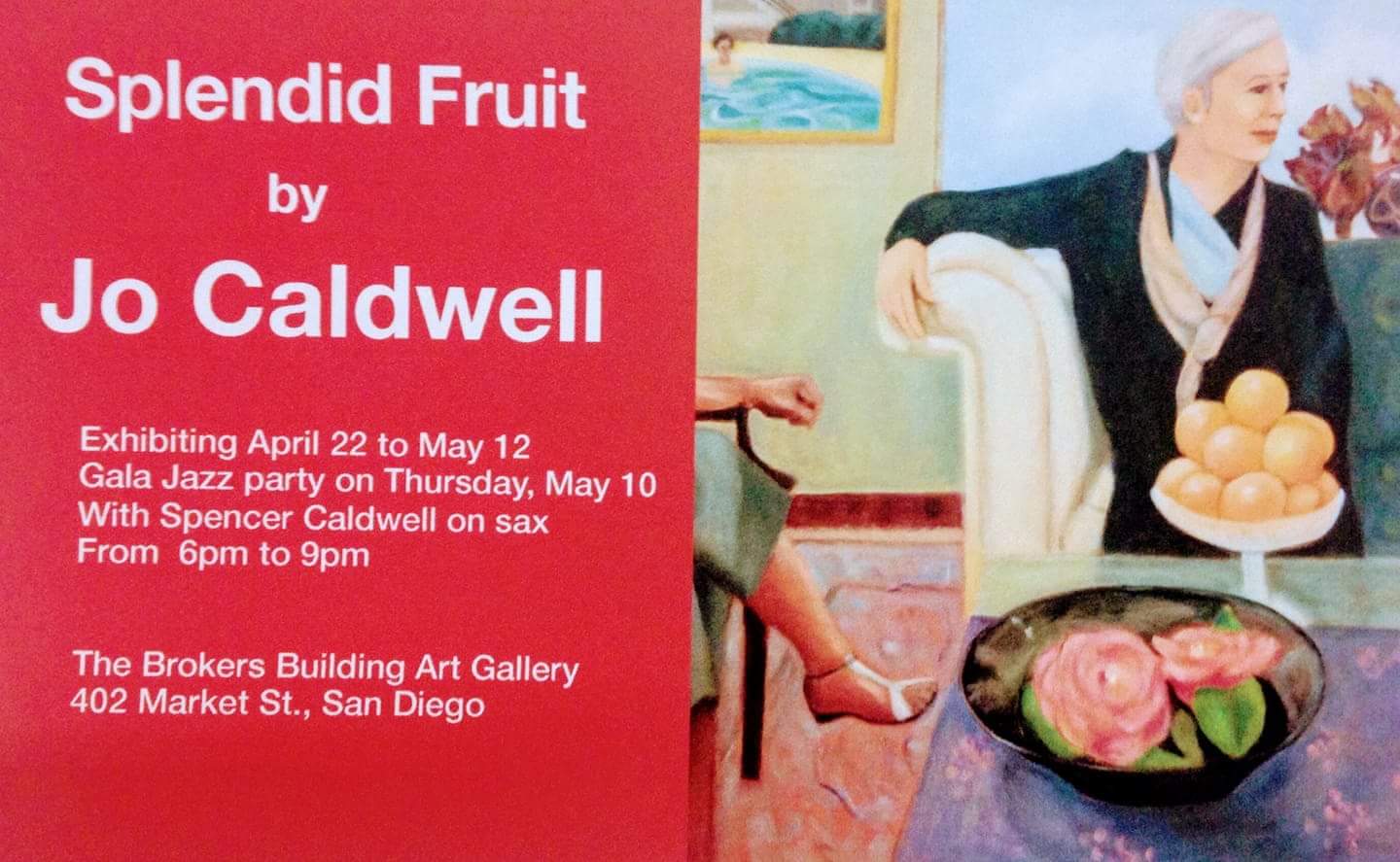 Splendid Fruit in oils by Jo Caldwell

This is a retrospective exhibition at the Brokers Building in the Gaslamp of the past thirty years of work by a San Diego artist Jo Caldwell. She has exhibited in invitational and juried exhibits all over Southern California. She states " The contradiction of life lies in thinking that we live on a purely temporal plane, when in reality it is our thoughts and emotions and the choices that we make that determines our meaning. So I paint in a seemingly realistic manner but do a bit of dream patterning, couching reality in physical terms that become vehicles for symbolic inferences. The language that I use is personal to my own vision of the inner and outer spaces in which we all exist." The exhibit runs from April 23 to May 12. There will be a Jazz opening from 6 to 9 on Thursday May 10. Brokers Building Gallery, 402 Market St. (Gaslamp District}

Jo Caldwell's Bio

I grew up in a small pine-covered town in Massachusetts steeped in the writings of Emerson and Thoreau. As a teen-ager I was the school artist and a pilot.

Initially I was fortunate enough to study at the Boston Museum of Fine Arts School with German Expressionist and encaustic painter Karl Zerbe. For four years I drew and painted the nude model. Whence my figurative work. There I was free to roam the corridors of a great museum and to learn the technical processes of oil painting while absorbing the history of creative expression. I was invited back for a fifth year of study but family problems prevented this from happening.

After living in virtual isolation for a number of years in a mountain rain forest of Costa Rica I ended up in San Diego, earning a BA in Visual Arts, with high honors, at UCSD. There I was immersed in art theory under the tutelage of an outstanding faculty. Patterson,  Scanga, Rosler and Silva to name a few. I was subsequently accepted into the graduate program at Cal State Fullerton and received an MFA in Painting and Drawing in 1993. The following Fall I taught a class in Beginning Painting at CSUF.

Since then I have been a professional artist exhibiting in juried exhibitions in Los Angeles, Orange and San Diego counties, showing at the Galeria Otra Vez (East L.A), the California Center for the Arts, the Oceanside Museum of Art and the San Diego Museum of Art. I have had invitational exhibitions at the Downey Art Museum, the Irvine Fine Arts Center, MiraCosta College, and Southwestern College. For fifteen years I was represented by Orlando Gallery in Sherman Oaks and had paintings in the rental galleries of LACMA and the Laguna Beach Museum.

My work is somewhat autobiographical often casting friends and relatives as subjects for my oil paintings. But actually my subject is gender dictated and socially directed at our ignorant need to separate and distort the essential unity of the human experience. That is the undercurrent of my work.

Recently I have published three volumes of my work. On line my website is jocaldwell.com. I previously have had websites with SDAI, SDMAAG and Laguna Arts.
#artcollectors #artshow #collectors #gaslamp #painting #jocaldwell #sandiego Art oilpainting realism sandiegocitybeat sandiegoreader sdsu ucsd